Residence: Kelowna, BC
Place of Birth: Regina, Saskatchewan
When not racing: Owns and operates Richardson Mechanical ltd. Mechanical Contractor business in Kelowna BC
Hobbies: Golfing, Motorcrossing, Water-skiing, Snowboarding, Running and Hockey
Best advice: Learn as if you were to live forever. Live as if you were to die tomorrow
Racing Heroes: Greg Moore and Juan Montoya
Favorite Food: Sushi
Favorite Car: Dodge Viper
Favorite music: Alternative
Favorite T.V show: Seinfeld and Simpsons
Favorite Movie: Jerry Macguire
RACING HISTORY
Numerous of Motorcross riding growing up in Regina Saskatchewan
Went to racing school at Bridgestone Racing Academy in Shanonville Ontario in 1999
Race in the Western SkipBarber Race Series in 2000 for 2 races in total Phoenix and California Speedway
Race in the Bridgestone FF2000 at Morsport park, Ontario in 2000 full series with 1 pole 2 second place finishes and 3 -3rd places finishes
In 2001 took the year off from racing
In 2002 currently in the Barber Pro Dodge Series: the ladder to Cart

The Barber Dodge Pro Series is the Official Entry Level Professional Race Series of CART. In its 17-year history, the Series has seen a number of Champ Car stars past and present make their professional racing debuts. Among them are such greats as Kenny Brack, Juan Montoya, and in 2002 Townsend Bell adds his name to the list. Barber Dodge Pro Series drivers seek to prove themselves in one of the most competitive environments in racing.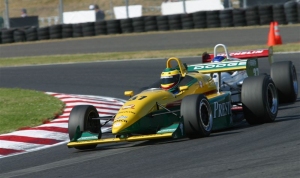 All competitors drive identically prepared Reynard Dodge 98E racecars. The carbon fiber composite chassis is mated to an all aluminum 3.5 liter V6 Dodge engine tuned to deliver 265 peak horsepower driven through a six-speed sequential Hewland gearbox. The Reynard Dodge 98E is shod with Michelin Pilot SX racing slicks. The chassis and engine package were designed to develop drivers in the cockpit and out with both technical and driver skill in mind.
The Barber Dodge Pro Series has 3 Canadian races, Toronto, Vancouver and Montreal as well as several in the United States and one in Mexico City.
"We are going to put our arms around the Barber series. These drivers are very important to us. They are our future, and we can not let talent die on the vine"
-Christopher R. Pook, President and CEO, Championship Auto Racing Teams (Cart)

95% of CART fans feel strongly or agree with the statement: "I feel positive about companies that sponsor auto racing or the CART Series". 71% of fans try to support companies who sponsor the CART Series. 60% own their own homes and 16% own a cottage or a vacation home. Our fans are educated, affluent Canadians who are loyal and passionate about the CART Series. Spectators for the Canadian races can reach as high as 160,000 with a total international viewing audience of approximately 42,074,000 .
The Barber Dodge Pro Series average attendance per weekend is 98,486 while the average TV viewing audience is 1,953,6252. 46% of Barber Dodge Pro Series spectators
said race team/event sponsorship made them more likely to consider buying a sponsor's products.
This is the best racing action anywhere in the world. An entire year of festivities geared to getting the community revved up for the big events. Also, the best-kept secret of these racing weekends is the CART/Barber Pro Dodge Series Paddocks. It's in the Paddock area that race fans can get up close to check out the Cart drivers and their crew, as they analyze and adjust their million dollar machines. No other sport allows such an intimate view of its stars.